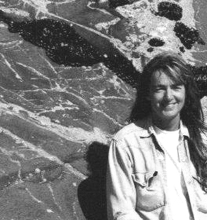 Deborah King was born in Dorset in 1950.
She grew up on Sandbanks Peninsula on the edge of Poole Harbour.
She trained in London at Hornsey School of Art, graduating in the early 1970s with
1st class honours. She then undertook a Post Grad year specialising in Illustration, establishing working links with the Zoological Society, the Natural History Museum and Kew Gardens.

1973-1986Deborah lived in Hampstead, London. From her studio in Camden Lock, she produced illustrations for book and magazine publishers, including Reader's Digest; BBC Publications; Sunrise cards USA; Sunday Times; Weidenfeld and Nicholson; Mitchell Beasley; Garden Studio and Elgin Court.
AUTHOR
1980Her first book ROOK, was published by Hamish Hamilton to much critical acclaim, breaking new ground as a non-fiction picture book with environmental message. [Birds and haunting landscape share the visual drama. The text reflects the same meticulous observation. A book to possess. Observer]
1980-2000Nine titles were to follow, published by Jonathan Cape; Lothrop USA; Random House; Philomel USA; Harper Collins; Orchard USA, plus numerous translations and foreign editions.
REVIEWS: BOOK PAGE
CONSERVATION/ENVIRONMENT/ANIMAL WELFARE
Many of Deborah's books have concentrated on important environmental themes, raising awareness and promoting the work of various conservation and animal welfare organisations, notably the RSPB; The Wildfowl Trust; WWF; WSPCA; SEACC-Alaskan Rainforest Foundation; Dr Hadwen Trust for Humane Research; ILPH (International League for the Protection of Horses.)
AWARD NOMINATIONS/SHORTLISTS
1991CLOUDYNominated. Kate Greenaway Medal
1992CUSTERSelected. Best of British Book Design. St Martin's School of Art.
1993CUSTERShortlisted. IRA-CBC Award. Best Picture Book. USA
1994THE BLACK AND WHITE CATSelected. Children's Book Trust. Picture Books of the Year.
1998THE FLIGHT OF THE SNOW GOOSENominated. Kate Greenaway Medal
1997Shortlisted. 4-11 English Association Award. Best Picture Book.
INTERVIEWS
BBC World Service; BBC Radio 4; BBC Radio Wales; Two Counties Radio (Dorset/Hampshire)
BBC TV South; Devon Air Radio; Radio Cornwall.
LECTURING
1974-1998Deborah lectured part-time on Foundation and BA Courses at Bournemouth University and Middlesex Polytechnic in London. She was also a visiting lecturer at Southampton University and regularly visited schools, giving talks about her work.
EXHIBITIONS
Solo
1980Portal Gallery. Bond St. London. W1.
1993Bourn Gallery. Dorset
2000Chase Art Gallery. Wadebridge. Cornwall.
Group shows
1976International Children's Picture Books. Japan and all major cities.
198121st Exhibition .International Children's Books. ICA.
1986Band Aid. Art for Ethiopia. Edinburgh Festival, major cities, Festival Hall. South Bank.
1990Superyacht 90. Barbican. London, Genoa, Fort Lauderdale.
Cornwall
2000-11Square Gallery. St Mawes; Old Custom House, Porthleven;
Cry of the Gulls, Fowey; Cotehele Gallery, NT. Saltash.
Trelissick Gallery, NT; Roundhouse Gallery, Sennen ;
Royal Cornwall Museum,Truro; National Maritime Museum, Falmouth.
West Cork
2013The Morris Gallery, Skibbereen, SW Ireland.
Her paintings can also be found in private collections in the UK, USA and New Zealand.
COMMISSIONS
The National Trust; Applied Holographics; Typhoo Tea – Atlantic Challenge; Vision Development Training. Dorset; Country House Art Club/Boat International.
MARINE
1982-1998Deborah returned to the Isle of Purbeck in Dorset, where she sailed her classic boat, later to inspire a series of 'on board' marine watercolours featured on this website. Her interest in sailing involved travel to the Bahamas and the Caribbean, and to classic boat rallies in the UK, St. Tropez, and Douarnenez, undertaking private commissions from New Zealand and the USA.
Travel to wilderness places around the world has inspired much of Deborah's writing and painting, and
following a life changing trip to Alaska researching her latest book, she made the decision to move west in search of a less managed and more remote landscape in which to work.
CORNWALL
1998-2011From her harbourside studio in Boscastle, North Cornwall, she was later to produce two books dedicated to the culture, ecology and Celtic links of Cornwall, one of which was translated into the Cornish language. Both titles are published by wingbeat, as part of the Made in Cornwall scheme. [The visuals are complimented with verses, imagist in form, that are akin to verbal plumes, feathers of inspitation, compact, vivid and pertinent. Western Morning News]
REVIEWS: CORNWALL PAGE
IRELAND
2011-She now works from her studio close to Roaring Water Bay in West Cork, SW Ireland.
ARTIST STATEMENT: NEW WORK