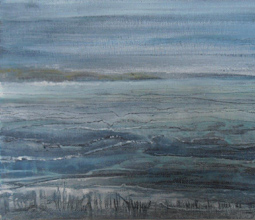 It is only when we forget all our learning
that we begin to know.
H.D.Thoreau
ART COURSES
WITH DEBORAH KING
With years of experience lecturing on Foundation and BA art courses in the UK, Deborah has continued to run her own drawing/sketchbook workshops, originally in Dorset and more recently in Cornwall. THE BOSCASTLE SKETCHBOOK welcomed people of all ages and abilities to take part in three day summer courses at the Old Parsonage in Forrabury, offering excellent studio facilities and friendly relaxing accomodation. Having since relocated to West Cork, courses will now run from OTTER LODGE STUDIO, SCHULL. .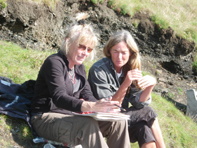 Deborah's courses are designed to be enjoyed by everyone, from complete beginners, to those wishing to improve or refresh their skills to a more serious or professional level. The groups are small (maximum of 6) working for much of the day out on the landscape, gathering information, each individual able to progress at their own pace. The students are introduced to new ways of drawing and mark-making, exploring different media and processes in the studio, whilst at the same time, able to further their own particular                                                               strengths and interests.
The aim of the course is to encourage and develop a working habit, a new way of seeing. By taking time to connect with the landscape, by observing more closely the constant changes, rhythms and movements of colour and light, the individual is encouraged to create a personal sketchbook, a visual diary or journal, and capture on paper a true sense of atmosphere and place. Story and creative writing also contribute an important role in the overall experience, wordplay explored alongside, or in conjunction with the image making.
Working from the landscape is a multi-layered process, a journey of discovery. It is about being still, being able to see beyond recognition, beyond the familiar viewpoint and perceived structure. Beneath the surface lie centuries of myth and memory, the ancient messages that connect us to the heart and soul a place. Here on the Mizen, on the edges of Roaring Water Bay, surrounded by mountains, scattered islands and fallen castles, there flows a raw and timeless beauty which cannot fail to inspire, challenge and excite the imagination…For an idea of the location see the MIZEN page.
THE MIZEN SKETCHBOOK
You are welcome to book for a single session or three consecutive sessions. All ages and abilities are welcome. Check out the following pages to get an idea of the work you will be doing.
WHAT TO BRING
A cushion in a plastic bag or small folding chair; sketchbook/journal/notebook plus a small range of media from the guide list below.
FOR MORE INFORMATION ON COURSE STRUCTURE and MEDIA, please follow the page links below:
If you would like some more information or contacts for local accomodation just email deb@wingbeat.co.uk.  .
Page 1 of 6 | Next Page »
Email Deborah on deb@wingbeat.co.uk.
Private one-to-one tuition and bespoke courses/media workshops for groups of 3 or more can also be arranged.