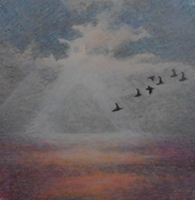 A story is like the wind,
it comes from a far-off place and we feel it.
Laurens van der Post
PICTURE BOOKS 1980-2000
A RETROSPECTIVE









The ten books featured on this page appear in chronological order, complete with reviews and a selection of artworks displayed from each title, the last of which was published in 2000.
Although the books are now out of print, copies may still be purchased on line at:
www.barnesandnoble.com
www.amazon.com
www.abebooks.com
A few of the original paintings are still available to purchase, and giclee prints from a wider selection of artworks can be offered on request.
For more information, please contact Deborah on deb@wingbeat.co.uk
Two more recent titles by Deborah King can be seen on CORNWALL Page.